Corporate Social Responsibility (CSR) is the process of funding and donating under which Public Charitable Trust/Societies and other non-profit organisations can get financial and other support from the corporate sector as per the relevant provisions of the Companies Act, 2013.
As a registered Public Charitable Trust/Society with a not-for-profit motto, Hope Foundation relies on a variety of sources for receiving funds/grants by way of donations and CSR contributions to meet its expenses on the educational, research and medical assistance objectives including social welfare and empowerment programmes and activities, environment and other livelihood improvement schemes.
In addition to the stated objectives of the Trust / Society, the funds provided under CSR would be catered for addressing the societal advancement issues, environmental protection and other socio-economic development activities which make a positive impact on the living standards of the economically backward and disadvantaged community and enable them to lead a productive and dignified life.
Replacement of Roof Sheets & Painting of Canopy Structure at I²IT Campus, Pune
Replacement of Roof Sheets & Painting of Canopy Structure at I²IT Campus, Pune
International Institute of Information Technology (I²IT), P-14, Rajiv Gandhi Infotech Park, MIDC, Hinjawadi – Phase I, Pune – 411 057
January 16, 2020 to July 10, 2020
Rs.85,53,684/- (Rupees Eighty Five Lacs Fifty Three Thousand Six Hundred and Eighty Four Only)
Mr. Prakash P. Chhabria, M/s. Mukul Madhav Foundation and M/s. Finolex Plasson Industries Private Limited
Rs.85,00,000/- (Rupees Eighty Five Lacs Only)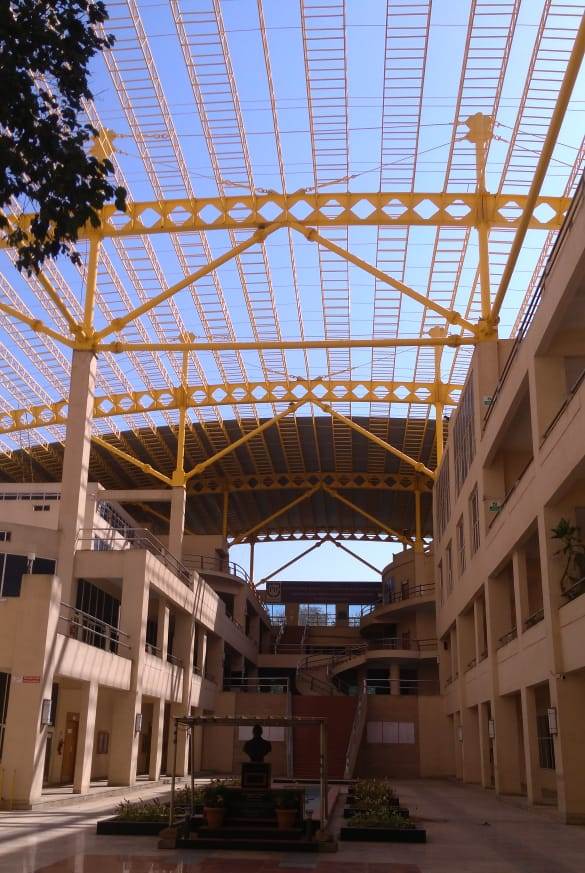 Considering the age of the buildings of over 20+ years and other civil related infrastructure, major repairs have come to the core and required immediate attention to prevent any crisis. In this regard, the damaged canopy roof sheet replacements were a matter, which required to be attended on top priority.
The Phase I of this project involved removal of existing roofing sheets of the entire structures of the main academic building and the canteen building, removing of rusted areas of all the pipes, truss and the structure, application of red-oxide to all the pipes and truss sections, one coat of primer and two coats of the approved colour of enamel / oil paint. The scope also included erection and de-erection of safety nets and scaffolding at all applicable areas during the execution of the scope of work.
 Phase II of the project included supply and fixing of colour coated Galvalume crimp curved sheets MxRib 1010 steel profile roofing sheet with base coil – JSW shaped with a small flute for efficient water drainage. The scope of work also included fixing of FRP caps and coating as well as supply and fixing of kemperol waterproofing coating for all openings, steel conical caps and joints in the roof with three-layered coating done at the cut-outs and at the rope cut-out junctions to make the openings watertight.